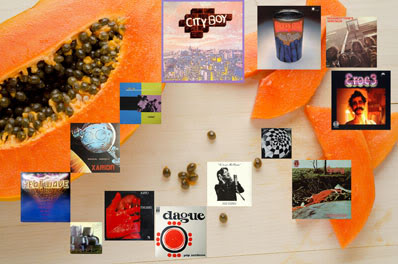 higher resolution
Welcome to sunset boulevard falling into the canyon flushed with papaya bouquet!
Starting with timeless emerald melody persecuted by AOR heavy rock riffs rotating beyond discomagic touch...the sunlight on me to be saluted with Xarion erected stars. Using those as bullets PAPAYA catapults frozen beaches full of amigos crazy about latin bongo bingo bango freak outs topped with syrupy incursion pop chant to unearthy lost * flawless folky rocking sensation! Oh dear papaya! Twisted with astral high chess themed library game slapped with Oozlum alpha & omega "Your life is up to you, do what you wanna do, if you are not aware, how can you say that you caaaaaaaaa...?" sung by Chris Harwood that is change for one of the heaviest bass that you can hear in PROG pasting all over your aural otherdom! Mellowed sound exploration ♫falls follows - multi-tracking and phasing effects de synthesizer music, space-rock, comic theatrics, reminiscent of outrageous Michael Rother's solos. Here he goes! Allan Holdsworth swimming in Golden Lakes brings arty, theatrical psychedelia and jazzy fusion laid back sex appeal (at least to Oozlum auricle canal) which is accompanied for 40 blue fingers superb blues freshly packed & ready to serve transported by chuf chuf train departing to Kikimorania!
L I S T E N (only on request)
Few of bombs were cracked for the very 1st time at Samstagssalon Joanelli, Gumpendorfer Strasse 47 / Ecke Joanelligasse, 1060 Vienna, Austria. Thank you for an opportunity and see you at Vienna's Joanelli when leaves turn to multicolor this year!
In the meantime, experience DiSCO MORGANA™ at your venue. Only serious offers, please. Contact here (layoozlumegg@gmail.com).